BRAD CROSHER
Head Coach
Brad has over 20 years coaching experience from coaching on the ATP Tour to coaching club level tennis. He spent over 8 years coaching abroad with most time spent in the United Kingdom working alongside some of the most innovative and sort after coaches in Europe.
This has enabled Brad to gather valuable experience to add to his coaching style to get people playing to their full potential.
Brad is now the Head Tennis Coach at Mentone Grammar School, The Sandringham Club, Leighmoor United Tennis Club and Le Page Tennis Club where he is wanting to build a strong club and culture for today and into the future.
Brad is also a qualified personal trainer and has a passion for many sports, so understands what it takes to help people reach their goals.
So if you're a beginning junior, an adult wanting to improve your game, or an aspiring professional player, BGCtennis is the right fit for you.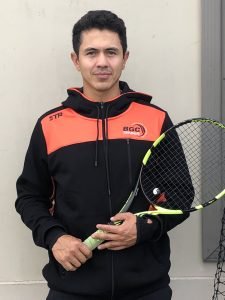 ANDRES RAMIREZ
Coach
Andres is originally from Colombia, he brings more than 15 years of coaching experience to BGCtennis. Andre's started his coaching journey as a hitting partner for professional players and highly ranked junior in Columbia's most respected tennis academy.
Andre's brings a wealth of experience working with high performance players, juniors of all standards and adults. He is a certified cardio tennis instructor, personal trainer and sport's manager. From the beginning of 2018, Andre's joined the BGCtennis team and has grown into the head coach postion with his leadership qualities and likeability.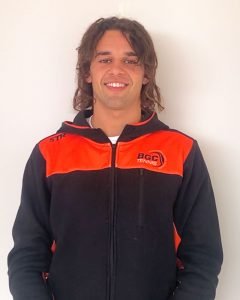 ANTHONY TAMBORRIELLO
Coach
Anthony has been a tennis coach for five years, has played Nationals as a junior and also participated in AMT tournaments.
He played in the first team for MG for seven years where he became captain and won two premierships.
Anthony was an AGSV team representative for two years and in 2016 was captain and alongside completing his Junior Development course in 2018 he has been a hitting partner for Australian Open Junior players.
He has coached SCOPE wheelchair participants, has a Cert III in Sports Coaching from the Australian YMCA Institute of Education, is trained in first aid and is currently undergoing the Club Professional course at Tennis Australia.
MITCH PATTINSON
Coach
Mitch Pattinson is a young yet experienced presence BGC Tennis. He started his tennis journey early, as a member of the Mentone Grammar 1st tennis team under the guidance of coach Brad.
Mitch's coaching style is characterized by his motivation, strong work ethic, enthusiasm, and genuine care for his clients. He has become a well-liked member of the BGC Tennis family, thanks to his positive contributions.
Before joining BGC Tennis over two years ago, Mitch gained valuable experience working at another tennis company. His own high-level playing ability adds credibility to his coaching, allowing him to connect with students of all levels. Whether working with beginners starting from scratch or mentoring high-level juniors and adults, Mitch adapts his coaching approach to suit individual needs and goals.
Mitch's coaching philosophy centres on inspiring and motivating his students while fostering a supportive environment. His infectious enthusiasm for the game fuels his students' passion and commitment. With his dedication and mentorship, Mitch has made a significant impact on the tennis community, and his journey as a coach promises continued growth and success for himself and those he guides on the court.
ADRIAN ROWE
Coach
Adrian's tennis career started at a young age, where he travelled around the world, obtaining an ATP world doubles tennis ranking in 2007. Following this, he became a touring coach for ITF international juniors and ATP ranked players.
He then decided to base himself in South East Melbourne to continue sharing his wealth of tennis knowledge with a variety of clients. Adrian has over twenty years of tennis coaching experience both here in Victoria as well as in Europe. This includes young beginners, weekly private and group lessons, school groups, as well as advanced academy players.
Adrian's coaching style is enthusiastic, fun, passionate and professional. He works with the clients to give advice and establish goals, such as fitness improvements and perfecting tennis skills. He uses a combination of drills, demonstrations, one-to-one hitting sessions and games to suit all ages and abilities.
Adrian brings a wealth of experience to the BGCtennis team.